I have ten years of experience working in frontline sexual and domestic violence services, delivering response and prevention education workshops and training days for professionals, academics, students, children and young people.
I currently deliver a wide range of training packages, with a specialism in consent-based sexual harassment training for workers and employers that activates and embeds policies. I'm happy to help you explore how external training might support your work.
What I can do
Co-design, development and delivery of bespoke training sessions
Scalable Train The Trainer for all packages
Delivery of workplace sexual harassment training, adaptable for your specific needs
Evaluation and Outcomes
My approach
Flexible and dynamic: meet participants where they are at
Anticipate a range of learning styles in the room
Use specialist sexual violence and trauma-informed knowledge in an accessible format
Create a safe container for a sensitive subject area
Design activities based on specific learning outcomes
Acknowledge and name power imbalances
Robust approach to sexual violence myth-challenging using a method I developed and now train on: The VERA Method
Training packages I've developed and delivered
Specialist VAWG training I deliver for organisations
For Rape Crisis South London
What is Sexual Violence? (for Professionals)
Sexual Violence and Young People (for Teachers and Youth Workers)
Understanding Consent (for University Students)
Respectful Relationships (Years 8-12)
Pornography (Years 9-12)
6 Week Sex and Gender Programme for school children (Consent, Body Image, Pornography, and Empowerment)
For Good Night Out Campaign (2014-Now)
Understanding and Responding to Sexual Harassment and Assault in Licensed Premises
Safer Nightlife Spaces for Event Organisers
Train the Trainer Day for Good Night Out Sessional Trainers
Multi-Venue Management Awareness training
Bespoke policy-generation workshops
Specialist training for Security Agencies on responding to sexual violence and harassment on shift
For Rape and Domestic Violence Services Australia (in 2017)
Moira Carmody's Sex, Ethics and Young People (Trained for delivery by Professor Carmody)
Vicarious Trauma Stages 1-4
Responding with Compassion (for Professionals)
Responding with Compassion (for Educators)
Case Study: #TimeTo
Client: National Advertising Benevolent Society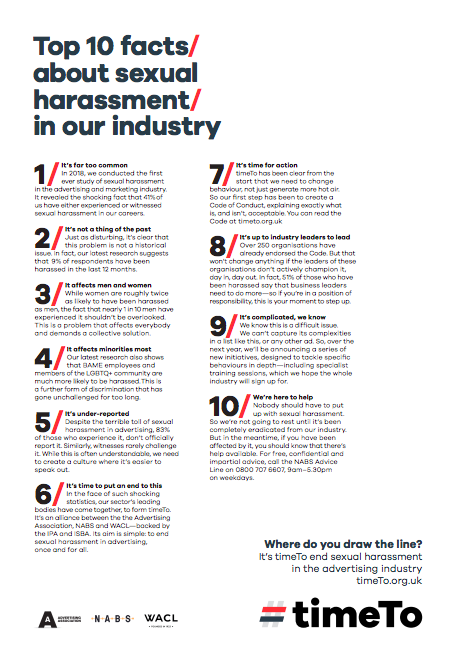 #Timeto is a joint project of the Advertising Association, in collaboration with NABS and WACL, is accelerating its anti-sexual harassment campaign #timeTo.
Appointed as the Lead Trainer and consultant on this project, I developed a 3 hour workshop suitable for staff teams and HR professionals across the British advertising and marketing industries. I collaborated with the #Timeto team, including workers on their specialist support helpline, to create relevant, engaging and interactive content and trained a team of freelance trainers to deliver this.
Get in touch via info@bryonybeynon.com if you are interested in working together. Please include as much information as possible about your organisation.